PB-207 POCKET TORCH
PIEZO ELECTRIC IGNITION SYATEM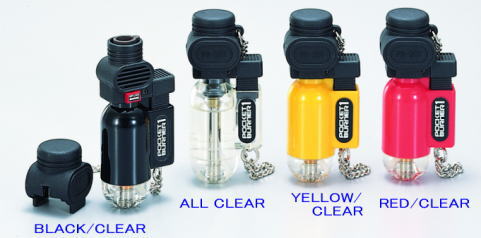 | | |
| --- | --- |
| Maximum tank pressure | : 60kg/mm2max |
| Gas content | : 100%full¨3.8g 80%full¨3.04g |
| Weight | : 40g(excluding rubber shand & gas) |
| Time length,continuous combustion | : 18`23min |
| Flame temperature | : 1,300Ž |
| Flame stabilizing(locking) | : Device (loking lever) |



CHARACTERISTIC FEATURES                                     APPLICATION




œ Piezo elecric ignition type torch,so small that is pocketable,portable.     œ Portable and handy for use

œ 1300Ž high temperature flame makes it a small but useful torch.             in hobby craft

œ The cap protects users from windshield heat and accidental burning.         œ As an outdoor equipment

œ Even if the flame is put out while the locking lever is in "LOCK"           œ As a tool for many other purposes

   position,it will automatically be released by putting on the cap and 

   gas will be stopped,then.

œ The torch can be used in upright position with rubber stand.